Thursday, April 1, 2010 at 12:00PM
|
Chiara Shannon
Taste | Explore | Enjoy
Personal Sommelier Online
April 2010
Are you afraid of asparagus? Fear not, dear wine lover - there are many wines out there that make wonderful pairings with asparagus and the other fresh vegetables of spring. If you see asparagus in your future, are vegetarian/vegan, or are simply interested in trying veggie-friendly wines from all over the world, you can create your own personalized wine club through the K&L Personal Sommelier Service.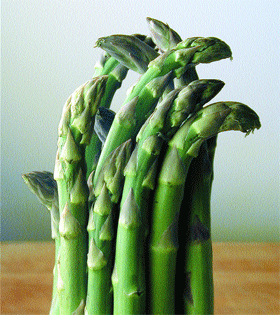 April 1, 2010
Asparagus is Okay
There, I said it.
For the farmers' market obsessed, April means one thing: asparagus! For the food-and-wine-obsessed, April can present a pairing conundrum: asparagus?
This herbaceous perennial native to Europe, Asia, and North Africa has been appreciated for its flavor, health benefits and ability to grow in soils where no other vegetable will grow (okay, and its shape) since the ancient Egyptians. It is also notorious for containing a chemical that reacts negatively with compounds in wine, particularly tannic reds and oaked whites.
But guess what? Asparagus is okay.
The world of wine is big. There are lots of asparagus-friendly options out there. To get your asparagus juices flowing, look to regions in Europe where asparagus is traditionally cultivated and consumed (with obsession, in some cases). You're guaranteed to find tasty wines to match.
The White Stuff
White asparagus is king in the classic white wine producing regions of Germany and Alsace, France. It is less acidic and herbaceous than green asparagus, and has mellower flesh and subtle sweetness in flavor that drive the locals wild. White asparagus is harder to cultivate because the spears must be grown without exposure to the sun.
Such is the passion for the spear in this part of the world that it comes as no surprise that the local Riselings make great asparagus pairings. If dry is your style, go for a classic Alsacian bottle, like the 2008 Roland Schmitt "Glintzberg" Riesling. This crisp, broad Riesling has the right balance of acidity and richness on the mid-palate to complement white asparagus served a number of ways, from simply prepared and drizzled with vinaigrette to the hearty classic Alsatian dish asperges jambon—ham and asparagus.
If you like your white asparagus with creamy hollandaise sauce, then consider a German Riesling from the Rheingau, where both ripeness and acidity are emphasized. The 2007 Josef Leitz "Magic Mountain" Riesling Trocken is an exceptional drier option that will play well with a variety of asparagus preparations. Leitz's Rüdesheimer Berg Schlossberg Riesling Spätlese, possessing added complexity and weight, will take your cream of asparagus soup to a whole new level. All three of these Rieslings also complement spicy flavors, so you can be more adventurous with your asparagus and still stay safe on the wine front.
Going Green
Easier to cultivate than white asparagus, green asparagus is the more common variety and can be found in markets all over the world pretty much year round, although its season in the northern hemisphere is typically April through June. The arrival of garden-fresh asparagus to market in April often coincides with the beginning of spring and the celebration of Easter in many western cultures. As a result, asparagus is often featured on traditional spring and specifically Easter menus, especially in France and Italy, where there is no disputing its consumption with the local red wine.
A good rule of thumb when dealing with tricky vegetables is to opt for balanced, fruity, medium-bodied reds with some complexity and spice that aren't too tannic, like the Grenache-based blends of the Southern Rhone. The 2006 Moulin de la Gardette "Cuvée Ventabren" Gigondas, for example, is a real beauty, with a nose of provencal herbs and ripe black and red berry fruit, a textured mid-palate and a long-lasting, savory finish. With fine, sweet tannins and loads of fruit, this promises to please everyone at the table, even when sparagus is involved.
More structured wines can also complement menus featuring asparagus, depending on its preparation and the weight and style of the other dishes. My go-to in this case would be Piedmont, where a light and fruity Dolcetto, like the 2006 Bricco del Cucù "Bricco San Bernardo" Dogliani makes a safe but satisfying pairing with asparagus prepared simply, with or without the accompaniment of meat.
For menus featuring bolder flavors and richer textures - think grilled asparagus and herb-roasted lamb - many options present themselves. There's Cote Rotie, California Cabernet, Aussie Shiraz...but my heart is still with Piedmont. I'd go with Nebbiolo - either a young, fresh and mineral-driven effort like the 2007 Ruggeri Corsini Nebbiolo d'Alba, which, though simpler than big brother Barolo, offers incredible value for the price, or (of course) Barolo. But Barolo that is ready-to-drink now, like the 2003 Elio Grasso Barolo Gavarini "Chinera." In the youthful Corsini, acidity is key. This wine cuts right through the fat, and its tart cherry and earthy flavors provide the ideal backdrop for the smokey and savory flavors of the dish to pop. In the Grasso, the initially super-ripe fruit and upfront tannins have softened with bottle age, and the resulting wine showcases leathery flavors and smokey complexity, complementing - rather than contrasting - the gamey, smokey, and vegetal flavors of the herb-lamb-asparagus combination. Either way, it's a win-win in my book.
At the end of the day, the winning pairing is really what makes YOU happy. Just remember, asparagus is okay.
Cheers,
Chiara Shannon
Head Sommelier
Personal Sommelier Service | Tastings
Did you enjoy this aritcle? Join the Personal Sommelier Facebook Group for more tips and features related to the K&L Personal Sommelier Service. Check it out - it's free!
Ready to design your own wine club? Get started today by visiting KLWines.com/Sommelier.asp or write to sommelier@klwines.com for more details.
Comments Off
| |
Email Post
|
Print Post
|
Permalink